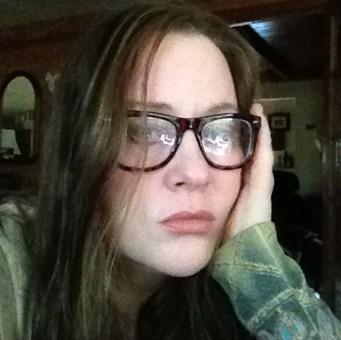 I grew up in the suburbs of Chicago. My dad was a Science Fiction fanatic and as a kid I read Phillip K. Dick, Ray Bradbury, Issac Asimov, Theodore Sturgeon, Michael Moorcock, Stephen King, Frank Herbert, Phillip Jose Farmer, Arthur C. Clark, Alfred Bester, etc. To me, being a writer was the most wonderful thing in the world.
After a stint in acting school where the class I loved most was the History of Plays, I decided on writing. I took a course in Science Fiction at NorthWestern University with the late, great Professor Frank McConnell, then got into the Story Workshop Program at Columbia College Chicago. The program was demanding, intensely creative and filled with people just as obsessed with writing and the story telling as I was. Guided by wily and creative teachers, I boned up on the classic, then interned with Michael Stein at his two funky little magazines, Fantastic Films Magazine and Video Action. I interviewed genre stars like William Shatner and wrote reviews for films like Star Wars and The Heavy Metal Movie. I proofread, pasted copy and pulled all-nighters positioning page numbers on boards to be photographed and printed. (Yes, kids. That's how it was done back then and it was insane!) I graduated with a BA in creative writing and poetry and a minor in astrophysics and dance (strangely similar disciplines since they both involve mass, time-space and gravity.)
Like every writing graduate, I walked into the world armed with a lot of theory, a little technique and not much life experience. I got a job as a horse carriage driver in Chicago for a summer and made enough money to travel through Europe. I lived in London for seven years, squatted, went to punk clubs, worked as a bartender and a dancer, then as an editor and publicist at Titan Books. The office was in a basement off of Oxford Street where I worked on the UK releases of Modesty Blaise (changing aussie phrases by hand on speech bubbles) and preparing Star Trek novels for reprint. As a publicist, I worked with Igor Goldkind (who coined the term "Graphic Novel") promoting comic writers and artists. I wrote press releases and assisted with launches such as Watchmen, UK.
And if you think you're paranoid about your grammar, spelling and punctuation skills now? Try working in England with a nation raised on BBC productions. I had to sleep with a Strunk & White's under my pillow. I still have nightmares.
Eventually, I moved to Los Angeles where I worked in the wacky world of film and TV. And when I say "wacky" I mean surreal.
LA is filled with production companies set up in houses across the hills and valleys. Each one supplies different elements to film and TV such as visual effects, editing or music. I've worked as a writer and production coordinator (worst job in Hollywood, by the way) for various people; Greg Aronowitz, who created miniature cities for Stephen Spielberg's A.I. Artificial Intelligence; Snuffy Walden, composer for The West Wing and The Stand, etc.
I also worked freelance, writing articles, poetry, reviews and stories for Midnight Graffiti, Paramour, New Musical Express, Drew Struzan's Oeuvre (1st Edition) and others. I edited the comic Blue and created mobisode scripts for Frank Miller's The Spirit for DreamEngine and a graphic novel series for DreamWave.
My first e-book project is Pet Sitter: A Jenna Stack Mystery, co-authored with my friend and colleague, the incredibly charming and witty Alix Sloan who lives in NY. Pet Sitter is now available on Amazon and we're currently working on the second Jenna Stack novel, Bell River. I'm also working on several other projects including a dystopian novel and a number of short stories for an upcoming Midnight Graffiti Anthology.
I share a house in LA with a bunch of creatives and two dogs, Mister Whickham and Miss Darcey and a Turkish Van cat named Angel (who thinks he's a dog).  I balance my writing and social media with teaching yoga and try not to get sucked into the Hollywood "Bowfinger" vortex.